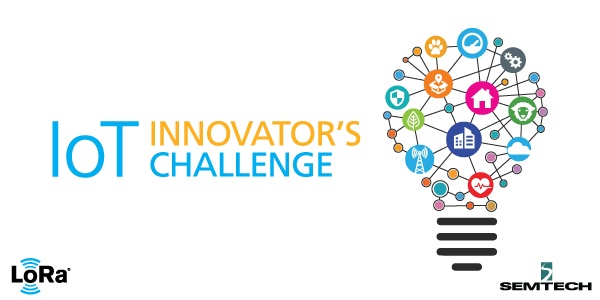 Semtech is excited to present the IoT Innovator's Challenge to be hosted exclusively in the LoRa Community, a premier platform for IoT (Internet of Things) and M2M (machine to machine) technologists, developers, end users, and solution providers.
Semtech is looking for the next great use case or product design featuring its new next-generation LoRa IC platform. Six contestants will receive an early edition SX126x developer kit and the top three contestants will also receive a monetary prize ($1,000 for first place, $500 for second place and $250 for third place)! The contest begins on February 27, 2018 at 5:00 AM (Pacific Time) and will conclude on April 13, 2018 at 5:00 PM (Pacific Time). IoT innovators worldwide are encouraged to submit their use case ideas on the following verticals: agriculture, city, supply chain and logistics, metering, industrial IoT, home, health care, food and safety, and insurance.
Designed with performance and reliability in mind, Semtech's next-generation SX126x LoRa IC platform features a 50% reduction in power and a 45% reduction in size. Semtech's LoRa® devices and wireless radio frequency technology (LoRa Technology) is widely regarded as the defacto technology for Low-Power Wide-Area Network (LPWAN) solutions and this family of next-generation ICs (SX1261, SX1262, and SX1268) is expected to play a direct role in the future of IoT. Machina Research states that "global M2M connections will grow to 27 billion in 2024." As IoT grows, LoRa Technology will remain a major player in the industry, connecting all kinds of things including sensors, gateways, machines, devices, people, and animals.
With LoRa Technology, your ideas can make the world a better place.
IoT Innovator's Contest Details
Go to semtech.com/LoRaCommunity on your computer or mobile device and login (if you are already a member) or register for the LoRa Community.

Go to the "Ideas" area.

Create a post in the Ideas area under the "Semtech Product Category" and include "IoT Innovation Challenge SX126x" as the title, and input [into the body] the Entrant's name (first and last name if an individual, or official corporate or agency name), as well as any other optional information you wish to provide. The LoRa community member that submits the Entry will be deemed to be the Authorized Representative if the Entrant is a corporation or agency.

Describe your use case or product design based around Semtech's SX126x LoRa product family by submitting a video link.

Create a short and simple video in English that describes your use case or product design and what makes it unique (the "Video").

Video can be recorded from a smartphone.

Video must be no longer than 2 minutes.

Upload Video to any platform (e.g. YouTube, or Vimeo) that generates a shareable link.

Include the link to your Video in the post.
For more information on contest guidelines, login to the
.
For more information on existing Semtech use cases, click here.
If you have questions, contact LoRa Community Support.
Semtech, the Semtech logo and LoRa are registered trademarks or service marks, and LoRaWAN is a trademark or service mark, of Semtech Corporation or its affiliates.